One of the features that makes WordPress so versatile is its media library, where you can store and organize all your images. Whether you want to upload images from your computer or from other sources, WordPress makes it easy for you.
You can also edit your images using WordPress image editor tool, where you can crop, resize, rotate, or add filters to your pictures with just a few clicks. However, sometimes you may want to use your WordPress images on other platforms or websites, such as social media, email, or online forums. For that, you need to get the URL of your image.
Getting image URL in WordPress is not difficult, but it can be confusing if you don't know where to look. That's why I have created this guide to show you how to get image URL in WordPress using two simple methods that will vary depending on the situation.
To learn how to manage your media library, including downloading its contents, check out our guide on How to download WordPress media library.
2 Ways to Find Image URL in WordPress
Each method has its own steps and scenarios, depending on where you want to get the image URL from. You can choose the method that is most convenient for you. So let's get started!
1) Get Image URL from Media Library
The easiest way to get image URL in WordPress is from the Media Library, which is where all your uploaded images are stored. To access the Media Library, you need to log in to your WordPress dashboard, there go to Media > Library.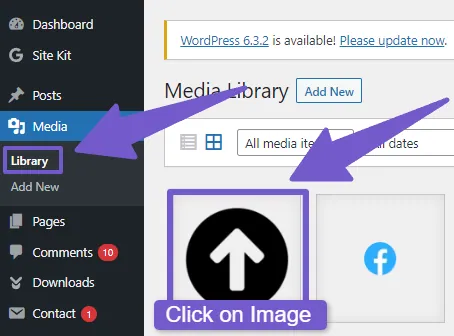 For any reason, if your media library fails to load, we have fixed it in our guide on how to fix media library not loading in WordPress
There you will see a list of all your images in either a grid or a list view., you can use the search box or the filters to find the image you want. Once you locate the image, you can get its URL by following these steps:
Steps:
Click on the image to open its details
On the right side, you will see the File URL field, which contains the full URL of your image.
Copy this URL by clicking on the Copy URL to clipboard button or by selecting the URL and pressing Ctrl+C on your keyboard.
Paste the URL wherever you need it.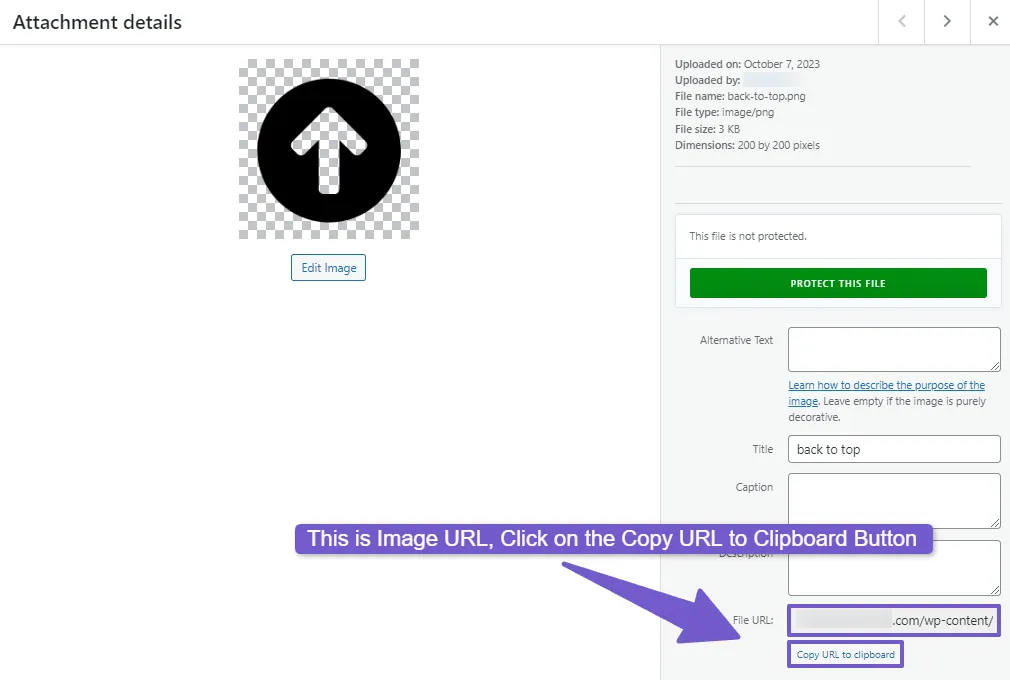 Alternatively, you can also right-click on the image thumbnail and select Copy Image address and you successfully got the image URL.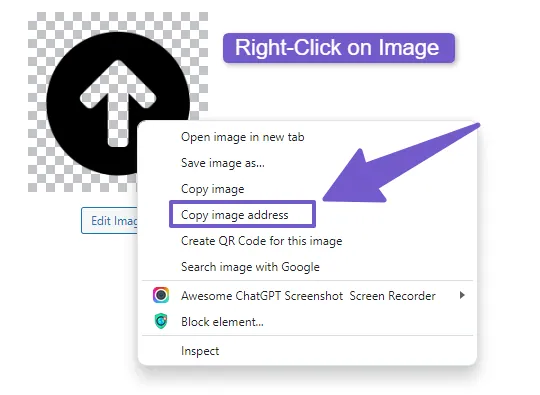 Note: If you want to use these images on some other platforms, keep in mind that any changes or deletions on your WordPress site will affect the image on other platforms.
2) Locate Image URL from Live Site( Front-End )
Sometimes, you may want to get the image URL from your live site, instead of the Media Library. This can be useful if you want to share an image that is already published on your site, or if you want to check the URL of an image that is not in your Media Library.
Also Read: How to Get Featured Image URL in WordPress
To get the image URL from your live site/front-end, you need to follow these steps:
First locate the image of whom you want the URL on your site, you can do this by browsing through your posts or pages or using the search bar( if available in your site ) to find a specific content.
Once you have found the image, right-click on it and select Copy Image Address from the menu that appears.
This will copy the full URL of your image to your clipboard and you can use it anywhere you want.
FAQ( How to Get Image URL in WordPress )
How can I obtain the URL for an image in WordPress?
To get the URL of image in WordPress, log in to your WordPress Dashboard > Navigate to Media > Library, locate the image you want the URL for and click on it. On the right-hand side on screen, you will see File URL filed, from there copy the image URL to your clipboard.
Can Image URLs change over time in WordPress?
No, Image URLs don't image itself over time but can change if you replace or update the image in your media library, so It's important to update the links if you make changes to your images to ensure they display correctly on your website.
Can I customize the Image URL structure in WordPress?
WordPress typically generates image URLs based on your site's permalink structure. You can customize your site's permalink structure under the Settings menu in the WordPress dashboard. However, altering the default image URL structure can be more complex and might require additional customization or the use of plugins.
Conclusion
Obtaining image URLs in WordPress is a straightforward process, and you can choose the method that suits your needs best. For example, if you want to find the web address of a picture that is already in one of your posts, you don't have to look for it in the media library.
However, if the image is not on your live site but in WordPress Media library, then our first method is suitable for you. I hope this guide has helped you learn how to get image URL in WordPress. If you have any questions or feedback, please leave a comment below. Thank you for reading! 😊
You May Like to Read:
How to get Current Page URL WordPress
How to Export WordPress Posts With Images
How to Download Images from WordPress Media Library
How to Change Product Image size in WooCommerce